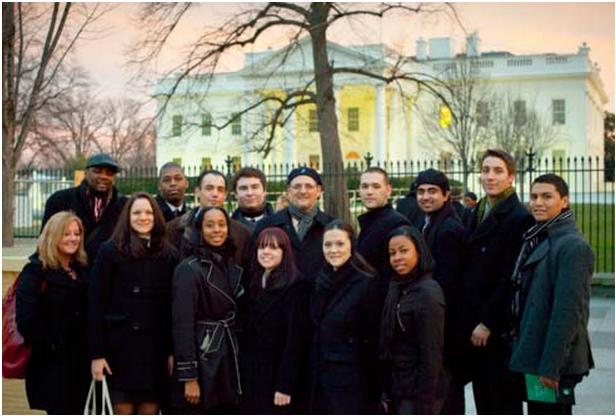 Montclair State University (MSU) has been described by Forbes magazine as "New Jersey's best public university" due to its top notch academic programs. With a student-to-faculty ratio of 17 to 1, an average class size of 23 students, state-of-the-art facilities and over 300 majors and minors, (MSU) offers an unparalleled learning experience for its students.
Among its top notch degree offerings is the Bachelor of Arts in Jurisprudence. The Jurisprudence major provides students aspiring to go to law school and other graduate study a solid academic foundation. Through the Jurisprudence major at MSU, students get the fundamental knowledge that is important to understanding legal process and institutions. There are fewer than a dozen such programs in the country.
(More on News at LAWS.com, contact Adam for interviews "adama@laws.com")
Students interested in law school can gain admission to a well-respected law school through Montclair State University. New York Law School (NYLS) and MSU have a cooperative program that guarantees a student admission to NYLS if he or she completes the major in Jurisprudence and fulfills additional requirements. What is special about this program is that it focuses on a student's academic accomplishments to determine admission rather than his or her Law School Admission Test (LSAT) score.
Dr. Marilyn Tayler has been with MSU since 1975, and has mentored countless students seeking admission to law school. Dr. Tayler is Jurisprudence Program Coordinator and University Pre-Law Advisor at MSU, and has talked to laws.com about the Jurisprudence major and how students can gain admission to NYLS through it.
Students can take the jurisprudence major with a view to pursue admission at any law school. In what ways does the jurisprudence major at Montclair State University prepare students for the rigors of law school?
We have a jurisprudence major. It is not a pre-law major; there is a real difference between them! A pre-law major is designed to duplicate the Socratic method and what one would get in law school. What we have designed is what we call a law in the liberal arts major; it is even broader than a law in society major. It is designed to teach students about law in relation to a number of disciplines in the social sciences and the humanities so that they get a broad idea of what law is about. Students get to understand relationships such as law and psychology, law and literature, law and philosophy, law and political science, law and government, law and sociology and so on. That is a key element of our major.
It is important to note that for the jurisprudence major we are not looking for a mass of students! In fact, we have a required GPA which is one notch under the Honors Program; because we want to send the message to students that if you are serious about going to law school you have to be a focused and good student! We are not trying to get a lot of students.
The hallmark of our program is a year-long interdisciplinary research and writing seminar where students choose a topic that involves law and at least one other discipline. For example, students have researched topics such as the law and politics of physician-assisted suicide, the law and ethics of paid organ donor banks, the law and literature of Uncle Tom's Cabin. Through this program, students look at law as interdisciplinary study. You may say this does not prepare you for law school, but it really does. This major gives you the vocabulary of law, the world of law and knowledge of law in the liberal arts that gives you a broader view, which truly prepares you for law school. Then, coming from this broader background, once in law school, you learn the Socratic method of thinking like a lawyer. Graduates of the Jurisprudence major who have gone on to succeed in law school are the proven testimonial to the success of this approach.
I just wrote an article that appeared in the Pre-Law Advisors National Council magazine, PLANC, which goes to every law school admissions director and every pre-law advisor in the country. The article was entitled The Ripple Effect of the New Normal. The idea is that the job market is tough for lawyers, and in response to that job market, law schools are giving students more applied preparation. That means more internships, more clinics, and more summer associate positions to try to help students build a resume, because law firms no longer want to train students on their dollar. They want students to be primed and ready for work when they walk in. There is a ripple effect of that down to the undergraduate education. For example, 25 or 30 years ago, if I were a pre-law advisor, I might tell a student that as long as you get a strong liberal arts preparation you can go to law school. Back then, it did not matter if you had never looked at a law book before. In fact, I went to law school with a PhD in Spanish! I had never previously studied anything related to law and that was okay, because law school gave me all the theory and everything I needed and practical training would occur in the real world of legal practice after law school.
At a recent national conference of pre-law advisors, and there was a law school dean who spoke and he said he calls every entering student to find out what areas of law they are interested in and by December of their first year in law school, he expects them to know where they want to spend their first summer associate position. Now, can you imagine if you just walked into law school with an English major, which is a great major for law school, but you do not know anything about law? So that is why you need either something like the jurisprudence major if you want to study law in depth, or, at the very least, you need a pre-law minor. The pre-law minor provides an alternative to the jurisprudence major, for students who want to experience the world of law in a more limited and focused way.
You need to walk into law school having a knowledge of legal vocabulary and the world of law. We have also restarted our pre-law internship, because we want students to be exposed to shadowing a lawyer and seeing what the real practice of law is about. The point is that in today's job market, with law schools preparing students more pragmatically for the world of the job, then undergraduate schools really have to prepare students for the world of law! You cannot walk into law school totally and blissfully ignorant, and expect four months later to decide where you want to spend your first summer associate's position! So that really argues for our jurisprudence major or our pre-law minor.
An important note about the jurisprudence major is that many of our students do not go on to law school. Many take it because they are interested in law. We recommend taking Jurisprudence as a double major, because it is interdisciplinary, and the major we recommend that it probably goes best with, although it goes well with almost any major, is political science. In the jurisprudence major, students study issues both from the vantage points of law and politics, and political science is a great analytical major! That is why political science is the single most popular major for students going to law school, because it teaches them how to think and reason analytically.
What are the advantages for a student to try to gain admission to the New York Law School Guaranteed Admission Program as opposed to try to gain admission to law school through the traditional route?
There is one tremendous advantage and that is the New York Law School agreement allows us to weigh the student's work in the jurisprudence major instead of weighing the LSAT. In other words, there are many students who do really well in school but who are poor standardized test takers, and this gives outstanding students who do really well in school an opportunity to gain admission to an A.B.A. accredited law school in our area.
What are the eligibility requirements to gain admission to New York Law School through this program?
A student must have a 3.5 GPA in the jurisprudence major, or a 3.4 GPA if they are a transfer student to gain admission to New York Law School through this agreement.
There is an application they must complete and our committee looks at their credentials. They must also average an A in the senior seminar.
For high schoolers interested in entering the jurisprudence program, what are the requirements to gain admission to it?
The requirements are that a student must be in the top 20 percent of their graduating class or alternatively, if they enter MSU and are not in top 20 percent of their graduating class, then they are required to have a B average overall in their freshman year or a B average in the first three courses that they take in the major.
In the six year history of this program, how many students have been able to gain admission to New York Law School through it?
Five Jurisprudence students have gained admission to this program so far. There are two reasons why this number is low. First, as I mentioned, this is a selective program, and second, a lot of high achieving students with high LSAT scores choose to enter New York Law School or other law schools through the traditional admissions process because they may get additional merit based financial aid.
To learn more about the New York Law School Guaranteed Admission Program please visit here. To learn more about Montclair State University's other great programs, please visit their site. To learn more about education laws and news, please visit our Education Laws Page.
Interviewed with Dr. Marilyn Tayler of Montclair State University, Monctlair, New Jersey by Adam Abdelaziz.